Vote is over: Go
HERE
Choose 2 stages
Results can only be viewed after you voted ==> Don't post results until the poll is over
Nobody can see what you voted for
Votes are final
For details: http://skullgirls.com/forums/index.php?threads/announcement-0xfail-stage-vote-feedback-thread.6156/
Please don't post in this thread, go to the one in the link above, this one is just for voting.
The two top stages of this vote will face off again (alongside with rough sketches of what they will look like)
-Small change of plans, the old stages seem to be liked way more,
second vote will deceide which one of them will make it

Salt(y) Mines
Deep deep underground
Final Destination of all bitter tears shed after losing the tenth time in a row.
Rumor says there is lab full of unused characters somewhere in the mines...
A dark and gloomy stage with a waterfall, a small pond to the right and a big gate
to an unknown lab on the left. You can see various background characters swinging
pickaxes to obtain Saltium, a rare salt, said to fetch a nice price around the black
markets of canopy. Near the gate a few characters from the indiegogo character voting page
are scattered around.
A cold winter morning
A frozen lake, warm beverages, happy faces and a giant monster that just broke
through the ice in the middle of the lake. Lovely.
Snow everywhere, a wooden cabin on the right side alongside a few trees
The center of the stage shows a big lake with a monster in the middle,
a few confused people scattered around the lake.
On the left there is a small stand selling hot beverages.
Aeon's Clock Tower
Many moving gears, pointless automatons and a big hourglass in the middle
Includes big scissors for added horror appeal (it's a clock tower after all!)
An old fashined clock tower made out of stone and wood with many moving
gears and all the magic equipment Aeon has.
The stage is in the top part of the tower, right behind the clock face.
Did I mention gears are everywhere?
2006 called, they want their stage back - Anna Killer diner
The cheap happy end: Everybody gets along, everybody comes back to life
and fighting is just for fun. They meet up at the Anna Killer diner. Roll credits.
Based on a screenshot I found when searching a bit around for old SkullGirls stuff.
According to the the site it's from 2006
A revival of this stage: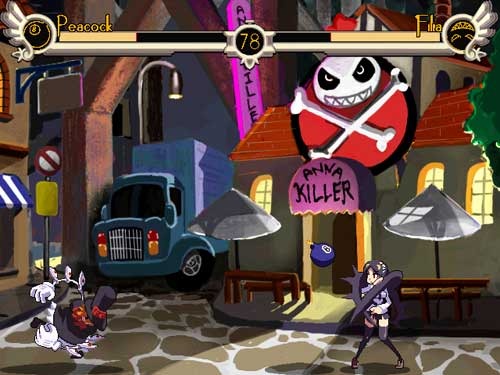 Last edited: