Well-Known Member
Administrator
Administrator
Joined

Aug 30, 2013
Messages

2,417
Reaction score

2,147,483,647
Points

113
Age

32
Steam

Vadsamoht


IF YOUR EVENT OCCURS MORE OFTEN THAN ONCE EVERY MONTH, PLEASE DO NOT CREATE AN EVENT PAGE.

(Just make a thread normally)
​
You are still welcome to make an ordinary thread in this section, but with the number of weeklies the header on the forum index will very quickly run out of space. Other than that, you are welcome to make threads for any event that isn't already covered here.
HOW TO MAKE AN EVENT PAGE
Click 'Events' in the navbar under the site logo. At the top-left, there is a button 'Post New Event'.

Important: Make sure the 'Create Event Thread' box near the bottom is ticked.
This creates a thread for the event in the relevant section and links it to the forum index.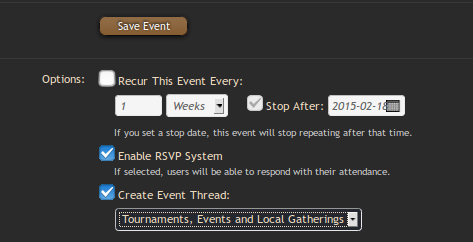 If you have any issues, contact myself or the events moderators @
Sanger Zonvolt
and @
keninblack
Last edited: