Joined

Aug 31, 2013
Messages

2,041
Reaction score

4,744
Points

113
Location
Website


I'm on a Galaxy A8 phone.
----------


Winning a repeated fight causes ending exp screen to display incorrectly.

When you win a fight in story mode, the ending screen will show your team getting XP and leveling up. For example, I gain 6000XP and my level 24 Peacock levels up to 25.
If I select 'Replay' and win the fight again, I will gain the same amount of XP and it will show Peacock leveling up from 24 to 25 again.
When I select 'Continue' and go out to the story mode map again, Peacock will now be level 26. She actually leveled up correctly when I replayed the fight, but the post match display was just wrong.
Short version: Replaying a match will give you the correct amount of XP for playing two matches, but will only display the XP gained for the most recent fight.
-------------------------
Faulty 'choose a new character screen' when replaying fights.
If you try to replay a fight when you don't have enough energy it will ask if you want to choose a new team or spend Theonite. Choosing to pick a new team will send you back to the the character select screen, but there are numerous errors.
[I'll upload a screenshot as soon as I get to my phone]
The opponent's name will be displayed as a random string of letters. There will also be a button to FIGHT them if you spend 1 Thenoite (regardless of how much the actual fight costs). Tapping this button does nothing.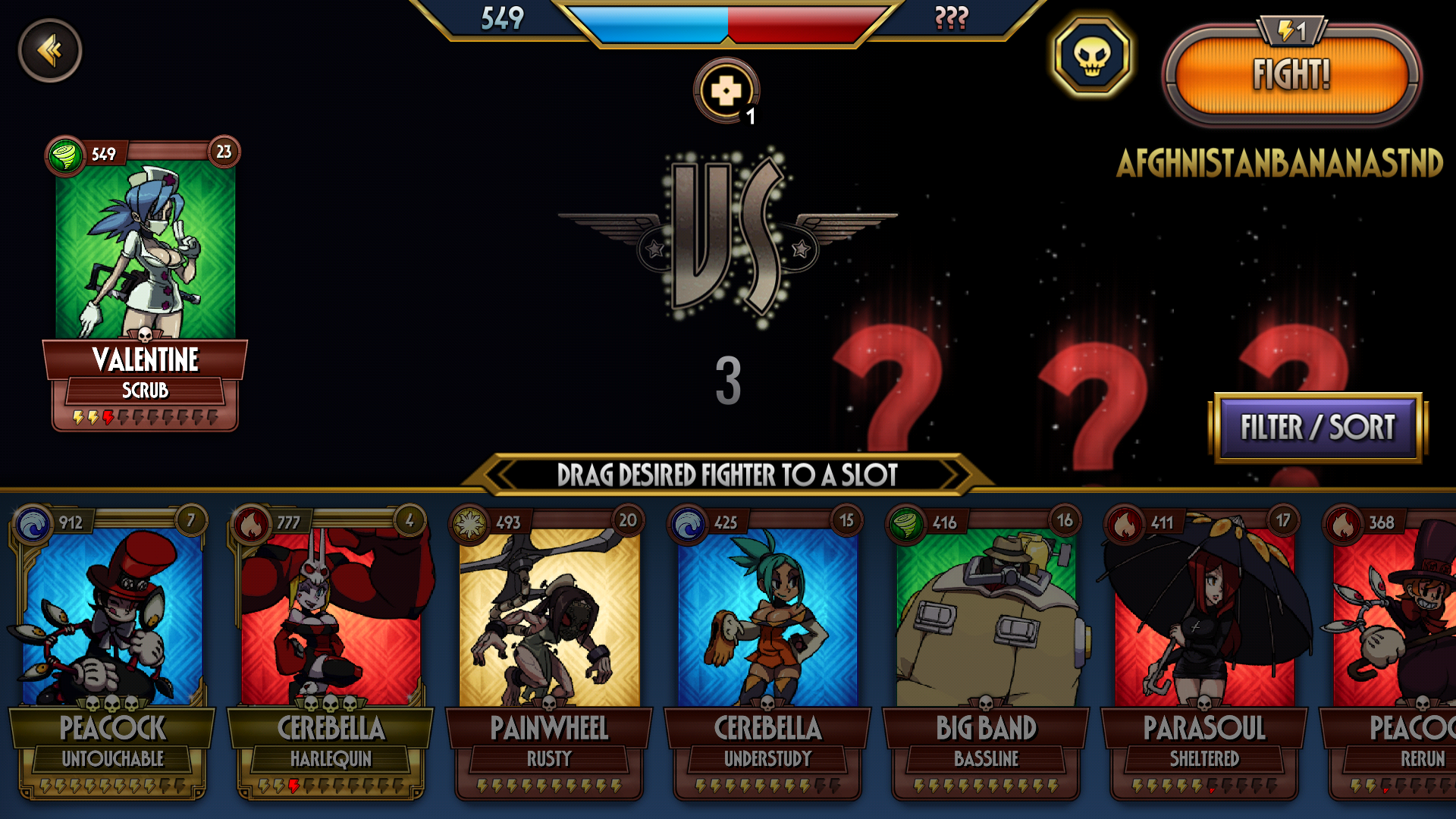 If you decide you don't want to pick a new team and hit the back button, all the characters you and the opponent have chosen will vanish. Their character coins will be replaced with Red Beowulf coins and then the game quickly quits back to the stage select screen.
I don't think I can screencap this as it flicks by pretty fast, and screenshots are mad slow on this phone.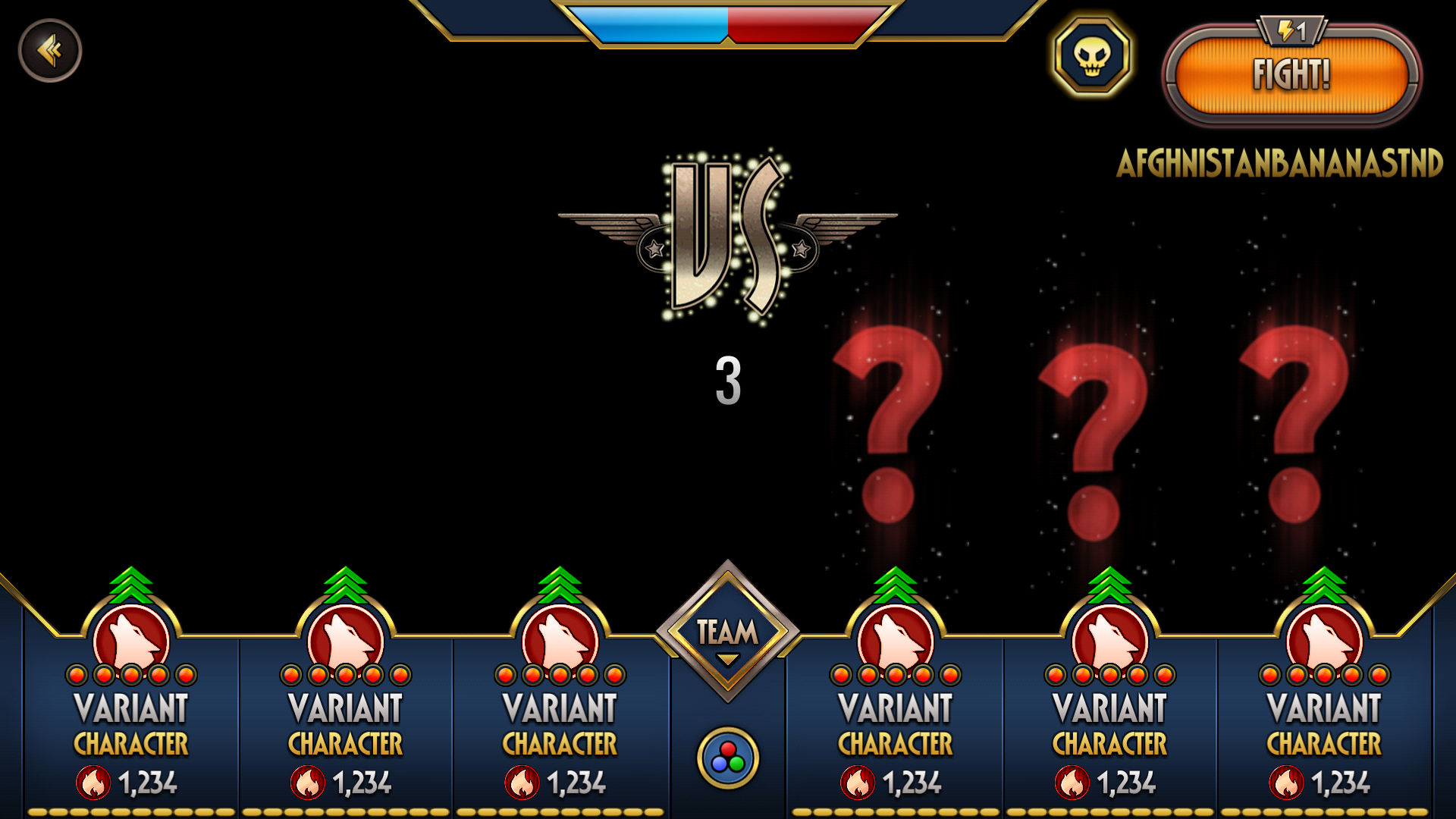 ------------------------
Painwheel's Buer Thresher super will occasionally not drain any meter when used. I have repeatedly used it back to back in fights.
It seems to only give itself one additional use though. After the super is used twice it will grey out and need to be recharged again to use.
-----------------------
I came across a daily quest "Use a team of 3 Fire characters. 0/10". I couldn't get this quest to trigger at all. I tried teams of 1, 2 and 3 red characters, plus teams of all blue and all green. It was stuck at 0/10.
------------------------
Filia's Hairball special will occasionally cause the game to crash. It's an identical crash to the one I get when I or the opponent's Parasoul uses her Yawn special.
------------------------
One of the loading screen tips says we can earn special Hero specific relics for beating dailies. We don't earn relics in Relics. We only earn special attacks and blockbusters.
There's also a couple that talk about the VS mode Arena, which doesn't exist anymore/yet. I've already met a person asking about this.
------------------------
Minor obsessive fan bug. On the story mode "A Fishbone to Pick", the main art shows Ms Fortune leaning on a railing. The art is taken from the console build of Skullgirls, so she's shown with all her scars. At the end of that story mode you meet Fortune and she has no scars.
"In episode 2F09, when Itchy plays Scratchy's skeleton like a xylophone, he strikes that same rib twice in succession yet he produces two clearly different tones. I mean, what are we, to believe that this is some sort of a, a magic xylophone or something? Boy, I really hope somebody got fired for that blunder."
Last edited: