Member
Hidden Variable
Administrator
Joined

Jul 2, 2016
Messages

96
Reaction score

51
Points

18
Age

41
Steam

MightyZug
PSN

MightyZug
XBL

MightyZug



This thread is intended to provide answers your high level questions about Skullgirls Mobile as a whole. If you have questions, don't be shy! We're here to help clarify any questions you might have. In addition to responding in the thread below, we'll be periodically updating this stickied post with additional information.
NOTE: This thread is
specifically
geared towards global questions about Skullgirls Mobile as a whole. If you have specific questions about Closed Beta (you lucky dog), I recommend checking out the
Skullgirls Mobile Closed Beta FAQ
instead!
INITIAL PRIMER / VIDEO FOOTAGE
If you're still getting up to speed on what Skullgirls mobile actually IS, below are some handy links to existing video about the game
GENERAL QUESTIONS
Who are you?!
Hi there! I'm Charley - Creative Director on the mobile version of Skullgirls (although others may chime in with additional answers as time goes on).

Who is making the Skullgirls mobile version? Who are all the parties involved?
There are a lot of folks involved! Here's a quick breakdown:
The original Skullgirls game (for all console, arcade, and Mac/PC platforms) was developed by Lab Zero Games.
The Skullgirls IP is owned by Autumn Games.
The mobile version of the game is being developed by Hidden Variable Studios.
Lab Zero Games is serving an advisory role for the game's overall design, and is directly contributing to the game by working on new stories and animations.
Wait, what?! Lab Zero is making new animations for Skullgirls Mobile?
Yup! :D
Take a look at some of the new rough intro animations we've got planned:
Is the mobile version of Skullgirls a "port" of the full game Skullgirls 2nd Encore? How is it different?
Skullgirls mobile uses the exact same animations and art assets from Skullgirls 2nd Encore, but it has been "remixed" and built from the ground up to maximize accessibility for a mobile audience who may or may not have prior experience with fighting games.
Is the game for both iOS and Android? Phones and Tablets?
Skullgirls mobile will be releasing for both iOS and Android devices, phone and tablet alike! We are currently working hard on optimizations, but Skullgirls is a pretty taxing game on mobile, as such we recommend newer/higher end devices to play. (official min spec devices TBD)
How much will the game cost? Is it Free or Paid?
Skullgirls will be Free to Play, but will contain In App Purchases (dum dum dummmm!). That said, the game has been built such that In App Purchases are completely optional. The vast majority of the content in the game will be accessible even if you have never spent a dime (although obviously IAPs will help you acquire that stuff more quickly).
STORY QUESTIONS
I heard this game will be a "prequel" to Skullgirls. What does that mean?
Skullgirls mobile's Story Mode is intended to not only serve as a primer to the story for players who are new to Skullgirls, but also to reveal new stories about familiar characters that compliment the stories told in the original console game.
Skullgirls mobile's Story is broken into "Seasons", that each cover a different time period. The first Season is a Prologue to the events that transpire in the console game. Marie has not yet made herself known as the Skullgirl, but 7 years have passed since the last Skullgirl (Queen Nancy Renoir) wreaked havoc on the world. As such, while everyone is going about their business, there is a general sense of unease of something ominous lurking on the horizon...
I didn't see <MS FORTUNE / SQUIGLY / BEOWULF / etc> in the Trailer! WHAT HAVE YOU DONE WITH THEM?!
All of the characters in the 2nd Encore cast will be making their way into Skullgirls Mobile as time goes on (we're working on them as we speak). As it stands, this is the current roster (just for the Beta):
PLAYABLE
Filia
Big Band
Peacock
Cerebella
Valentine
Painwheel
ENEMY ONLY
Stay tuned for information about who is coming next!
Will <CHARACTER_X> be in the game?! OMGOMGOMG SAY YES SAY YES
We can't promise anything at this point, but rest assured we're hoping to have as many members of the Skullgirls universe as possible make an appearance in story mode, along with (hopefully!) a few characters jumping in and joining the fray!
The better the game does, the more resources we'll be able to invest in bringing more and more of the cast to life!
(Except Umbrella, of course) ;-;
MISC QUESTIONS
Let's address the elephant in the room. Will there be a Deadly Airport stage?
There are Deadly Airport references in the game (look closely at Peacock's Skill Trees!), but we have no plans to make any new stages right now.
Will the game support controllers?
Skullgirls has been rebuilt for mobile, and thus has been designed exclusively with touch inputs in mind. As such, no current plans for controller support!
What's this about a Closed Beta? Can I sign up for it? Is it too late?
There IS a Closed Beta, in fact - it's already started! That said, you can still sign up if you like, we'll keep adding people in waves!
SIGN UP HERE:
http://www.hiddenvariable.com/skullgirls
NOTE: Given the tremendous outpouring of support, unless you were a Skullgirls IGG backer, the odds are against you getting into the Beta at this point. However, we still encourage you to sign up so you can be the first to take advantage of any upcoming beta build or other fan opportunities!
GAMEPLAY QUESTIONS
What does <ARMOR / BLEED / MODIFIER X> do?
I'm glad you asked! Here's a whole graphic that should help break it all down for you: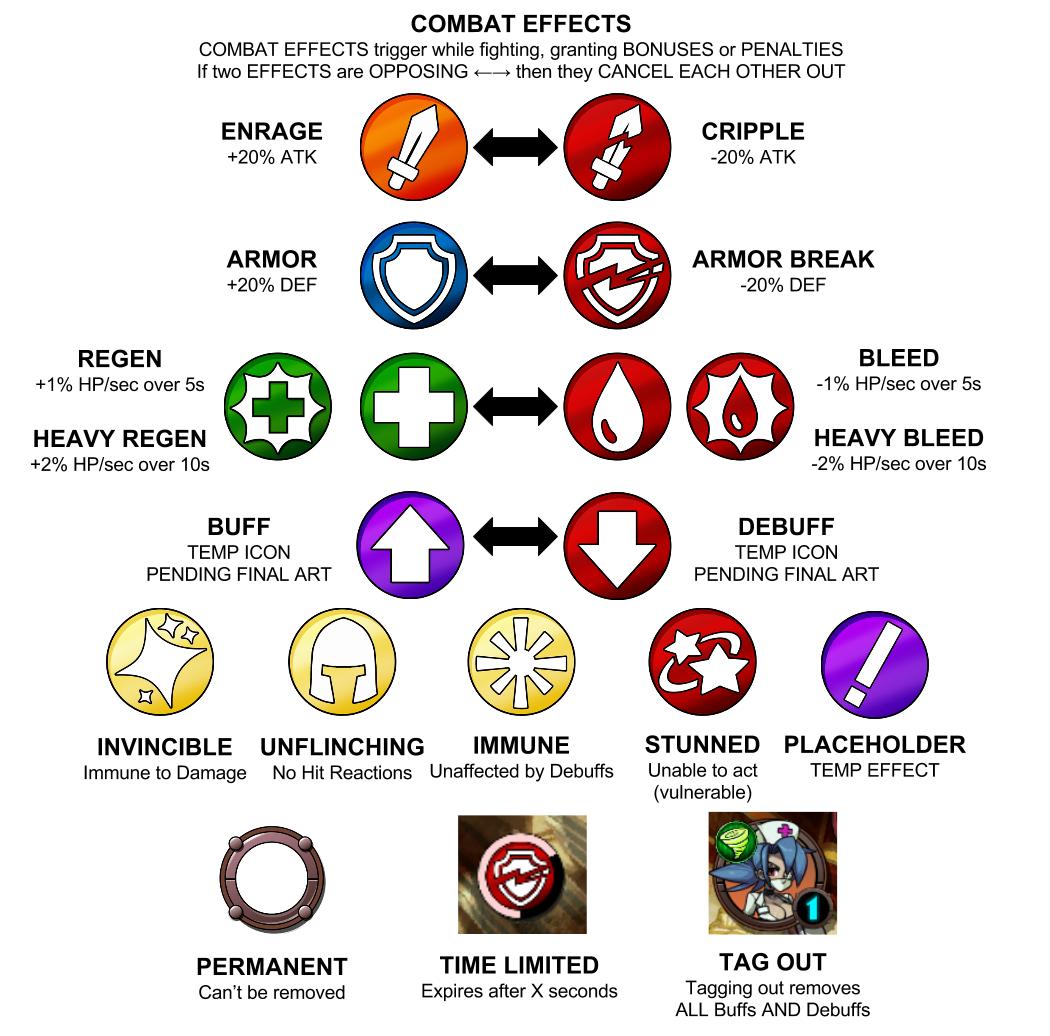 Post any additional questions you might have in the thread below and we'll continue to update this as we go!
Last edited: