you're gonna carry that salt
Joined

Dec 12, 2013
Messages

624
Reaction score

2,127
Points

93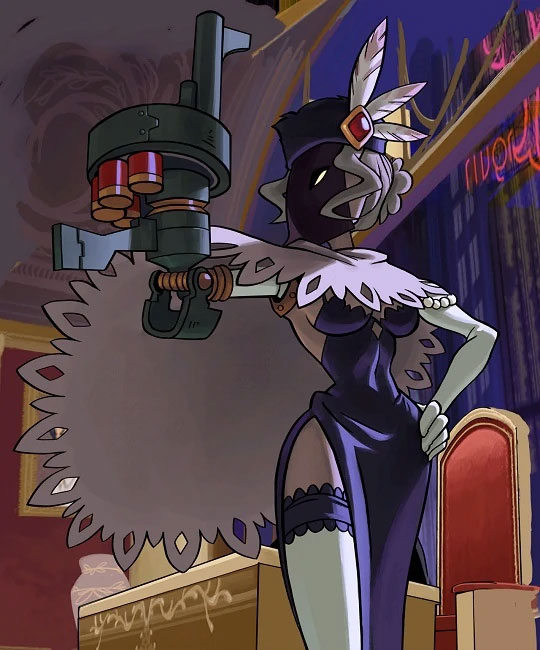 BLACK DAHLIA

​

Real name:

Unknown

Age:

50-60 years

Classification:

Cybernetically-Enhanced Human (Cyborg)

Affiliation:

Medici Mafia
Canon Info Thread Data

​
She is an ex-member of the Anti-Skullgirls Labs and her body was modified with weapons from there. Like Big Band, she was part of the Labs before they worked with synthetic parasites therefore her body doesn't have them.
She is the trainer of the Medici's legion of female assassins who specialise in hidden weapons such as the footblade that we see Cerebella uses.
Black Dahlia's time in the Labs drove her mad, she used to be a lot different and had a different name before becoming an assassin
Dahlia was the first ASG; essentially a prototype. She was gravely wounded in a Skullgirl attack and Geiger put her back together.
She is around 50 to 60
Dahlia doesn't have any true loyalty to the Medici. She is powerful enough to be the second-in-command of the Medici and loves to be their due to her deranged, violent nature, as being with them gives her a constant excuse to be violent
Black Dahlia is NOT Elven. She is human. Alex said the idea that she was elven sprung from the misinterpretation of a piece of art where her ears were stylistically more pointed, but never meant to indicate she was anything but human.
She was always "rough around the edges".
Tom (the Dagonian pilot of Ottomo) maintains Black Dahlia's mechanism. Despite Dahlia's mechanism being from a much older generation of ASG tech, he can still work with it using his engineering skills
Friends & Enemies

​

How do you think Black Dahlia will be perceived by the cast? How I see it:

HATED

Ms. Fortune - murdered Fortune and her "family", the Fishbone Gang

Peacock - all Medici goons deserve death

Marie - ditto ^

Squigly - murdered Squigly and many Contiello friends and family

DISLIKED

Annie

Big Band

Eliza

Filia

Painwheel

Parasoul

Umbrella

Valentine

NEUTRAL

Beowulf - probably unaware of Dahlia's existence

Fukua - doesn't care

Robo-Fortune -Brain Drain said to watch out, but who listens to that guy?

LIKED

Cerebella - perhaps feared-admired, like a master/trainer respect

Double - appreciates any source of chaos and mayhem

LOVED

lol no one
Conspiracy Theory - The Vitale Medici Coup

​

Without the Life Gem, Lorenzo Medici's supernaturally-extended health has taken a severe decline. He's practically disintegrating while his son, Vitale, is taking advantage of the Skullgirl panic to clean house. With his henchman Ottomo, Vitale went to the suburbs to kill his brother's family (despite their refusal to participate in the criminal syndicate). Filia's parents (Marcus and Amelia) were murdered, and Filia was left for dead but managed to survive thanks to Samson. Later, Vitale orders Cerebella to retrieve the Life Gem.

The conspiracy: what if Black Dahlia let the Fishbone Gang steal the Life Gem?

One would think something so important to the head of the strongest criminal organization in the country would be a closely-guarded secret. How did a small group of thieves find out about it? Perhaps Vitale, with Black Dahlia's cooperation, are behind these series of events.

What do you think will happen in Black Dahlia's story mode?