Joined

Sep 6, 2013
Messages

3,667
Reaction score

4,437
Points

113
Age

31
Location
Steam

Zidiane
PSN

zidiane5
XBL

Zidiane

Other thread was closed. But this is still an important discussion. Everyone is excited at the notion of focusing on specific events, so we should continue to have an open discussion about the things we will be doing for and in response to these events
If you aren't caught up to date on something, this spoiler is for you:
Focusing Community turnout thread is the community discussion leading up to now, which you can read up on in
this thread
. There was also a more recent thread about this "Skullgirls Tour", but it was locked and can be viewed
here
. There was an Open Letter to TO's containing the list of events that the community has decided to collectively support, posted
here
, as well as an SRK article on the matter, posted
here
.
TLDR; the community decided to make five specific events this coming year as big as possible. These events were chosen because they've treated us well in the past. An open letter stating this was posted, and it caused more heads to turn to SG, leading people trying to figure out how to capitalize on the attention.
edit 8/25/16: Here are some updates, based on what has transpired over 3 pages. I'll be updating as new important info is provided.
It became clear that we needed stronger infrastructure moving forward, so I have volunteered to be in charge of this organizational process, and thus will take responsibility for us moving forward. If you have any questions or concerns, direct them to me or one of the others on the team. That team consists of
@keninblack
,
@Dolfinh
,
@Kazmer
,
@Hawt Salsa
, and
@dapurplesharpie
.
Also, while he isn't on the team, I'd like to give special thanks to
@Kai
. He has been actively putting in a lot of work for the community, and I know his time is a little less easy to part with considering his family and career. While he won't be on the team, I'm considering him a member in spirit due to his starting this "SG Tour" conversation. Some of us may not have considered organizing in this capacity without him starting that conversation, and despite any misgivings people may have had about him or internal conflicts community members have had with him in past threads or in private, I personally consider him an important part of where we are today and where we are headed in the future. Thank you for the work you've put in, Kai.
As far as the events we are targeting, the solid list appears to include CEOtaku, GUTS4, Revolution 2016, Frosty Faustings, NWM, and Combo Breaker.
What we know without a doubt is that the community is by-and-large behind the list of events that we are focusing attendance on. I haven't heard a single person with any issues with the list. That's basically set, and should be considered the bedrock and guideline for everything we do from now through 2017.
Moving forward, though, we have a few things to discuss. I think the first real question to be asked is: how are we going to follow up on the momentum of these events? The list of events is first and foremost for us to enjoy. Having a blast attending any event on the list is honestly enough to make everything worth it in my eyes, but extra can be nice. How do we go about boosting attendance and reception at these events? Is just shouting about what we're going to at the top of our lungs enough, or can/should we do more? If so, what?
The previous thread on the subject suggested "Points", though the exact details weren't fully fleshed out before it was closed (
this image was drummed up
). The reception seemed mixed to this model, but feel free to continue the Capcom Cup style point system discussion here.
Community content is another avenue on following up on events. Could be anything as simple as a logo for events we're supporting to use, posters for the "tour", or videos and other content to support/add onto the visibility of these events seem like a neat avenue (I'm talking with some community members about content, but more is better in this department). Videos could be anything from content directly based on the players, the event, the play, or even simple guides and/or comprehensive tech videos that can be submitted to news sites. The more of a steady stream of content we have, the easier it is to stay in the public consciousness.
As far as logos and posters go, this mock-up image I made was from the previous thread (the Bella logo is by
@Kai
), and it seemed to be a decent concept with the least people upset at it. Obviously not a finalized anything, just a concept of the kind of poster we could have to help easily advertise to others where we're going. Could even have it printed out or something and displayed at events we attend? A massive sign to hold in the crowd during stream? Postcards to hand out to people?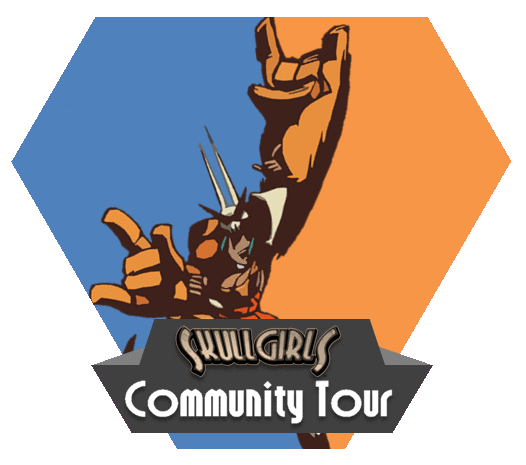 I think another thing we need to be doing is dissecting events, both good and bad. Figure out why the good are good, the bad are bad, and reflect on events on the list afterwards to find areas we can ask them to improve on or areas to let them know we loved about their events. This will help increase longevity, I think.
There was also mention of other parts of the world, like EU and JPN and BRZ, being represented on our list of events. Events that will host SG don't seem super common or stable in those places, from what I've heard, but we can and should still do our best to be vocal about those. Every bit helps, even if it's just retweeting something or sharing a link.
The thing I'm most excited about this whole thing is the potential that we have. We've collectively declared that we own this year for us. We're going to make it work for us, unlike every other year which we've just been trying to survive in. We can make a lot of head way, and I'm incredibly excited to see where it goes.
Last edited: